The Interpage SMS Gateway facilitates SMS messaging, as well as Multimedia (MMS) messaging, to mobile phones and SMS/MMS-capable devices worldwide. The SMS/MMS Gateway utilizes
simple commands
, which may be submitted to Interpage via e-mail, secure e-mail, HTTP/HTTPS,
TAP/modem dispatch
,
Touch Tone/DTMF commands
and other methods to accept and process messages to be sent out via SMS or MMS.
The SMS/MMS Gateway allows senders to control the appearance and sender information of messages: Instead of being limited to a phone number, senders may alternately have specific numbers displayed for different divisions or departments within an organization, a return e-mail address at Interpage which recipients may reply to for distribution via Interpage, or a custom-branded e-mail address, such as that of a company or sending organization.
Other messaging/paging services and applications are available, please review the Messaging/Paging Main page and/or the Enterprise vs. Personal Messaging/Paging Comparison for details.

[ Back to Main | Messaging/Paging Main Menu | Personal Msg Gateway | DirectPage Service | Alarm System Integration | International Gateway Svc | Automated Paging Database | Voicemail Dispatch | OutVoice | Send a Free Page | Messaging/Paging Rates | Messaging/Paging Instructions | Sign Up | Free Trial | Contacts ]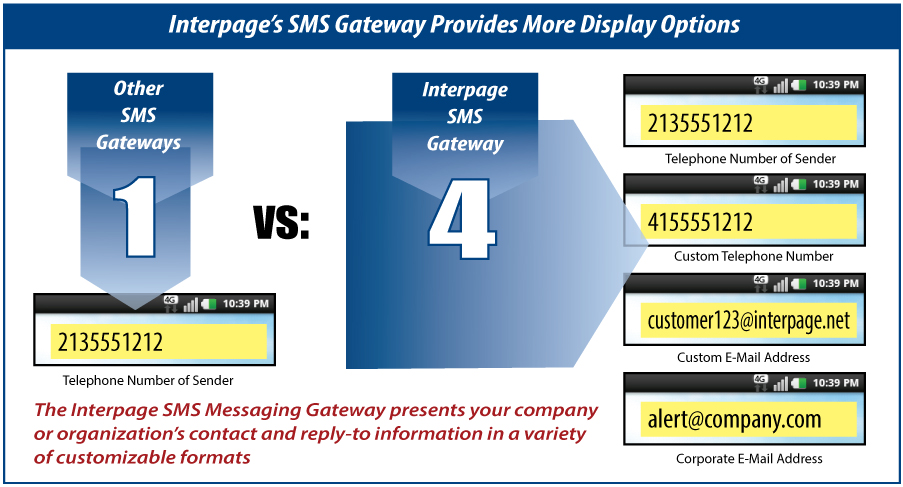 (Personal/individual messaging customers interested in sending/receiving messages to SMS/cellular/mobile destinations, please visit the personal/individual messaging gateway services page for details about Interpage's direct e-mail gateway service to/from cell phones and SMS mobiles, or view the comparison of the Enterprise and Personal Messaging Gateways for more information.)
---
The Interpage SMS/MMS gateway can send messages and alerts to mobile phones and SMS/MMS-capable devices, but, unlike other gateway providers, may be instructed on a per-message basis as to how to send the message (as SMS, MMS, or TAP fallback) and what sender information to use. Message recipients can be presented with a sender telephone number, a corporate or main voice number, or an e-mail address, which can be altered on an ad-hoc, per-message basis.
The Messaging/Paging Gateway is designed for seamless integration into nearly any messaging regime -- commands may be sent to the automated Messaging/OutPage server via simple e-mail commands web-based, or FTP submissions, with optional SSL/TLS secure encrpytion for HIPAA and other similar secure messaging requirements.
• For example:

OUTSYS SMSGATE 14155551212 "This is a test of the Interpage SMS Gateway"

...which will result in a mobile number (415) 555-1212 (in the US/Canada, eg, country code 1) receiving the message: 'This is a test of the Interpage SMS Gateway' with the SMS sender ID/# of Interpage's main SMS Gateway.

• Alternately, sending the following command to the SMS Gateway:

OUTSYS SMSGATE R4155551212 "This is a test with our company number using Interpage's Paging Gateway"

...will result in mobile number (415) 555-1212 receiving the message: 'This is a test with our company number using Interpage's Paging Gateway', with an SMS sender ID/# of a 10-digit US/Canada number registered by a given company with Interpage.

• Flash-SMS (where a small bubble appears on the main screen instead of in the usual alert bar on top of most phones) is also supported, as:

OUTSYS SMSGATE F4155551212 "This is a test using the SMS FLASH code"

...which will result in the recipient receiving the SMS message as a flash code and displaying it as per the phone's settings on how flash SMS messages are presented.

• E-Mail return addressing is also available:

OUTANY SMSGATE Q2135551212 "This is a test SMS Message with our company main e-mail reply-to address"

...and message (213) 555-1212 so that "This is a test SMS Message with our company main e-mail reply-to address" will be received, with a reply-to address as an e-mail address (such as welcome@abc.com) which has been registered with Interpage.
(Other SMS/MMS sending and presentation options are also available, details on the messaging protocol and how to configure a server to use Interpage as a singular gateway for all SMS, messaging, and paging notification needs may be found on the Messaging/OutPage Commands page.)
The Messaging/Paging Gateway also provides detailed confirmation messages to provide information back to the sender (or server) of the status of a sent message:
A QUEUE confirmation indicating that the Interpage Messaging/Paging Gateway has received the message and is sending it out (a "success queue"), or if there is some error in the request (due to poor syntax for example) a message indicating that the reuqest could not be processed (a "failed queue")

A SEND confirmation indicating that the Gateway has sent the message to the given destination carrier, system, or mobile (a "success send"), or that delivery to the given carrier, system, or mobile has failed (a "failed send")
The queue and send confirmations are sent in plain text (not binary or HTML), and are thus easily parsable by servers or automated equipment/software to provide customers and end users with detailed updates as to the status of their messages. Billing codes or other unique strings of data may also be sent with each message/page, and are passed back in the queue, send, and billing messages to keep track of individual messages and assign costs (if applicable) to individual customers or groups.
Parties interested in an evaluative (free) trial of the Messaging/Paging Gateway may signup online or complete a Messaging/Paging Trial Form, and when complete fax or scan the form to Interpage for processing.
Other access methods to enable specialized applications to move content and messages to cellphones, pagers and other messaging devices are also available, please inquire for details.


---
Rates, other Plans, and links to associated SMS Gateway Services:
---
Contacts
To receive additional information about Interpage's Messaging and Paging Services, please contact us via:
Web-based Support/Inquiry Interface
Telephone: +1 (650) 331-3900.
Interpage Contacts Page
We will be happy to answer any questions concerning messaging, paging, or other services!
---
Last modified 10/01/2021