A comparison of Interpage's

InFax

and

OutFax services

: The InFax and OutFax small overview charts below serve to distinguish the features, functions, and access methods between Interpage's InFax and OutFax services.

Other

Fax

,

Messaging and Paging

,

Voice Notification, Broadcast, and Dial-Out

services and applications are also available, or select from those listed on the

Home Page

or

Interpage Site Map.



[ Back to Main | Interpage Overview | Messaging/Paging Main Menu | DirectPage Service | Alarm System Integration | International Gateway Svc | TAP to Pager/SMS | Self-Dispatch Svcs | Operator Dispatch | Voicemail Dispatch | WebAlert | OutVoice | Messaging Gateway Rates | Send a Free Page | OutPage Gateway Instructions | Sign Up | Free Trial | Contacts ]


---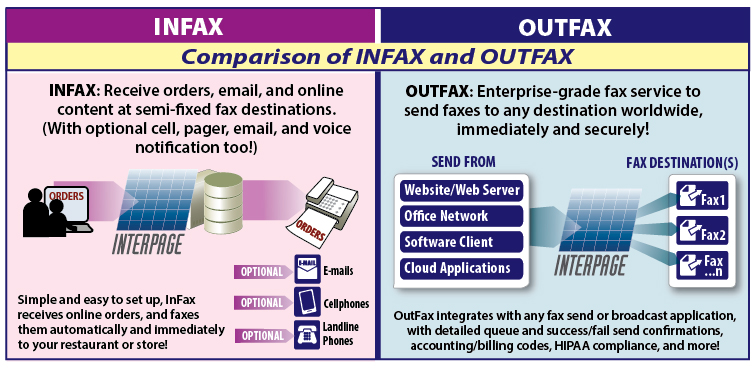 InFax and OutFax services are delineated below; please click on the given service discussion links (below each chart) for additional information.





InFax Service: InFax offers an automated and immediate Web & E-Mail to Fax gateway - customers, prospects, or any e-mail or web visitor simply e-mails to your InFax address, and/or visits your web site (or an optional custom link provided by Interpage) and their e-mail/web message is seamlessly converted to fax and sent to one or more locations of your choosing, instantly! Besides being sent to one (or more) fax machines for hard-copy order/inquiry printouts, InFax can also send received messages to cellphones/SMS, pagers, voice notification to regular telephones, and/or forward them to one or more email addresses, with delivery to these end devices/addresses scheduled (if needed) by time-of-day, day-of-the-week, the sender, and/or their content.





OutFax Gateway Service: Interpage's OutFax Web/E-Mail to fax service is a robust, fast, enterprise-grade, HIPAA-compliant, and highly-reliable method to securely send text, DOC, XLS, Microsoft Office, PDF, RTF, PostScript, G3, UUEncoded files, Web Pages via URL fetch, HTML/attached HTML, and other file formats to one or more fax destinations worldwide via email or secure TLS (SSL) messaging without the need for any special software or configuration.




---
Contacts
To receive additional information about Interpage's InFax, OutFax, and other fax-based or other messaging/integration services, please contact us via:
Web-based Support/Inquiry Interface
Telephone:
+1 (650) 331-3900.
Interpage Contacts
Page
We will be happy to answer any questions you may have concerning our faxing other services
---
Last modified 08/27/2021